Most companies rely on external vendors to fulfill a variety of corporate needs, especially when certain expertise is required. But expertise shouldn't be the only requirement to hire a vendor. Paying attention to shared corporate values may be, in fact, one of the most important qualifications to look for when selecting a vendor.
Corporate values around wellness, locally-sourced products, and sustainability were some of the things that set Oh My Green apart from the competition when Mixpanel started its search for a corporate culinary and snack supplier. We documented how our partnership got underway in a case study. A few days ago, we had the opportunity to reconnect with Aaron Cuadra, Global Operations Manager at Mixpanel, for a live webinar. We wanted to get a candid update about our ongoing work with Mixpanel. We'll be sharing the recording of that live session with Aaron very soon, so, please stay tuned!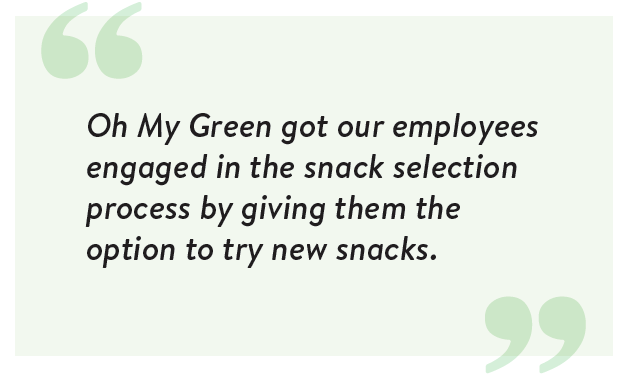 Truth be told like with any relationship, there were challenges to overcome as we started supporting Mixpanel's office kitchen needs in New York City. But how we addressed those challenges, how we got everyone engaged and listened to their needs, how we stayed true to our shared values, and kept committed to delivering the best possible service paid off and resulted in a very happy customer. During our ongoing monthly Customer Satisfaction surveys, the team at Mixpanel has given us an average score of 9 out of 10. We worked very hard to earn that nice score.
Oh My Green is on a mission to transform the office into a destination for healthier living. If you're not an Oh My Green customer, get on board now and make the upgrade now to nutritious and delicious!