We love Project 7 Sourly's because, well… they are delicious! These guilt-free treats are also free of bad stuff like gluten and artificial flavors and colors. Sourly's are 100% non-GMO, made with organic sweeteners, and each one provides a mind-blowing experience with their unique sour-to-sweet flavors. And they are made in the US!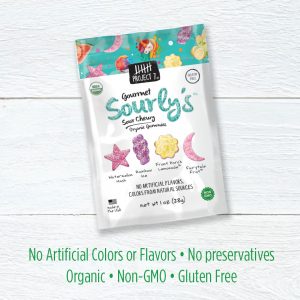 Project 7 not only makes treats that are totally amazeballs but also has an amazing mission. Their journey started when founder Tyler Merrick decided he wanted to build a brand that people loved while providing financial resources to important causes. Project 7's name comes from the seven areas that the company supports: saving the earth, housing the homeless, feeding the hungry, quenching the thirsty, healing, teaching and anti-bullying. The company's efforts have resulted so far in more than 10 million individual acts of kindness in the form of trees planted, meals served, education hours, malaria treatments, and much much more.
Project 7 is one of those company's that is showing the world that a business can be not only focused on creating inventive and delicious products but can also make a positive impact on the world.
We take our hats off in total respect for their business philosophy and mission. And, ????you've got to try their Sourly's, if you haven't!
If you are an Oh My Green customer and want to try Product 7's products, contact your Happiness Ambassador today. If you're not an Oh My Green customer, then get on board and make the upgrade! Click here to get started!