We love brands like The Safe + Fair Food Company. Founded by two dads with nut-allergic children, the company provides clean label and delicious foods — chips, cookies, cake mixes, mac & cheese, and more — that address the needs of the more than 15 million people in the United States with food allergies.
That's why we chose SAFE + FAIR to be our September Snack of the Month partner. You can now get their amazing Abby's Cookies, named after one of the founder's daughters, direct from Oh My Green. They come in two varieties: chocolate chip and shortbread. They're non-GMO, made from whole grains, and contain no artificial ingredients, trans fat or high fructose corn syrup. In addition to being delicious, these cookies are also peanut-free and tree-nut-free. Yeah!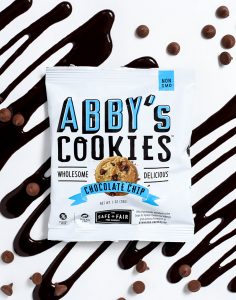 Manufacturing allergy-friendly foods isn't easy. To accomplish that goal, SAFE + FAIR maintains strict protocols for every product they develop. The company follows 16 proprietary measures to ensure their products are safe and of the highest quality. They donate 3% of their proceeds to the Sean N. Parker Center for Allergy and Asthma Research at Stanford University – how awesome is that?
Join us in welcoming SAFE + FAIR to the Oh My Green family of healthy snacks. If you're already an Oh My Green customer and you'd like to give Abby's Cookies a try, contact your Oh My Green Happiness Ambassador. If you not an Oh My Green customer, get with the program and click here to start!