Ah, pomegranates… tiny edible seeds resembling little jewels that come packed with nutrients. Pomegranates are high in antioxidants, vitamin C, potassium, a great source of fiber, and plant compounds known for their powerful medicinal properties. According to Dr. Brent A. Bauer, a consultant medical doctor to the Integrative Medicine Program at Mayo Clinic "pomegranate juice contains antioxidants at higher levels than do many other fruit juices, and it contains nearly three times as many antioxidants as green tea or red wine does."
Pomegranates arrive every autumn and stay only for a short period of time. Typically, from September to December but sometimes stretching into February. So, be sure to incorporate them into your holiday meals this year.
How to Seed
You'll find various suggestions on how to seed pomegranates, but this is the preferred method used by our chefs. Cut the fruit around the middle, deep enough to pierce the skin, but try not to cut into the seeds.
Pull apart the two halves. Submerge the two halves in a bowl of water. Gently push the edges down and away to open up the fruit. Turn the half upside down and hit it with the back of a spoon. Seeds will sink to the bottom. Scoop the floating piths out of the water. And now you are ready to use them!
How to Store
Whole pomegranates keep well at room temperature for up to one month, and up to three months when refrigerated. After seeding, the arils can be refrigerated for about 3 days.
A Holiday Breakfast – Pomegranate Chia Seed Pudding
Tis the season for crazy mornings and days filled with festivities. You'll need a nutritious breakfast to help you take on the day with energy. This easy holiday breakfast recipe, from our Chef David Felix, requires a little bit of planning ahead but only takes 10 minutes to prepare.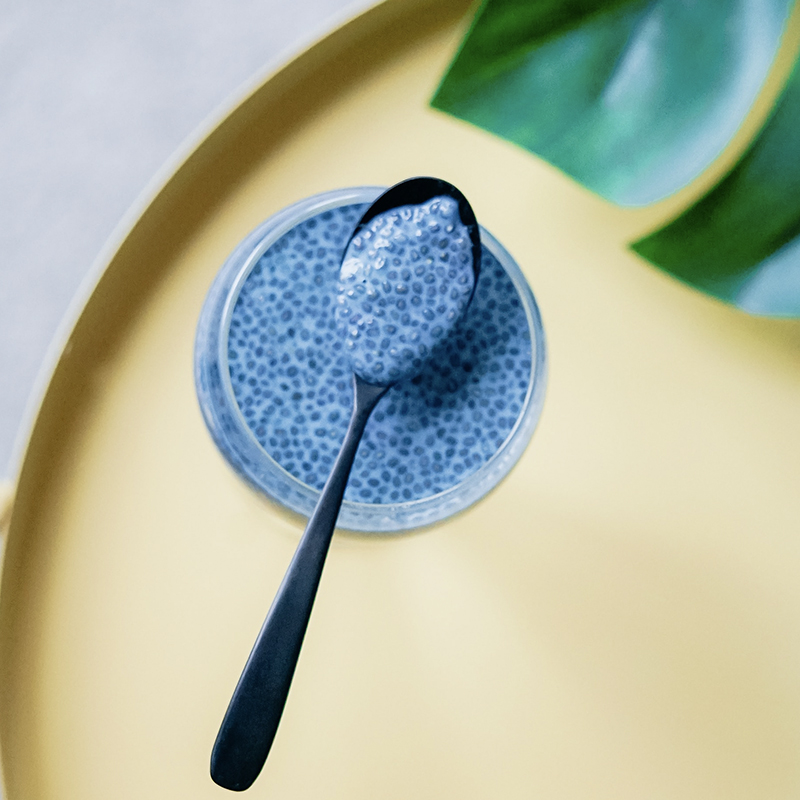 Ingredients:
1 cup pomegranate juice
1 cup Greek yogurt
1/4 cup chia seeds
1/2 cup pomegranate arils
Toppings:
1/4 cup of dark chocolate, shaved
1/4 cup pomegranate arils
1/4 cup shredded coconut
Instructions:
Whisk together the pomegranate juice, yogurt, and chia seeds
Cover and refrigerate overnight
Remove the chia pudding from the refrigerator in the morning
Add the toppings: pomegranate arils, chocolate shavings, and coconut. Enjoy!
We're on a mission to transform the office into a destination for healthier living. Oh My Green's corporate culinary services and catering are currently offered across the San Francisco Bay Area, New York, Los Angeles, Austin, Seattle, and Boston. If you're not yet customer, get on board now and make the upgrade!
Be sure to join our community on Facebook, Twitter, and Instagram. Find us as @OhMyGreenHQ.
---
ABOUT THE AUTHOR
Teresa Liu is a Certified Nutritionist and member of Oh My Green's amazing culinary team. She works alongside Oh My Green chefs to promote healthy eating and wellness throughout our customers in the San Francisco Bay Area.