Whether it's true or not that breakfast is the most important meal of the day, for those of us who simply can't get going without it, here's one easy and delicious recipe for overnight oats with ingredients you'll find in any Oh My Green-stocked employee kitchen. It will require a little bit of planning, but really it takes two minutes to prepare and you'll be glad you did!
Ingredients
½ cup of Old Fashion rolled oats
1 tbsp of chia seeds
1 tbsp of maple syrup or honey
1 cup of almond milk or soy milk
½ cup of blueberries
½ a banana
How to make it: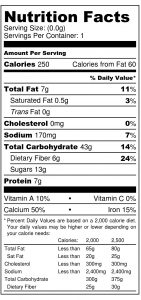 Before you head home for the night, grab a mason jar and add the first four ingredients above. Close the jar, give a good shake, and put it in the fridge. (May we suggest you put a sticky note with your name on it? ????).
The next morning when you get to the office, take the jar out of the fridge and add ½ cup of fresh blueberries and ½ of a banana. Voilà!
This delicious breakfast is a great mix of protein, good carbs, antioxidants, potassium, plus dietary fiber that promotes a healthy gut environment. Enjoy!
Please, be sure to post a selfie of your smiling face enjoying your yummy overnight oats; and don't forget to tag us!
If you're not an Oh My Green customer yet, get started now and make the upgrade to healthy snacks now!