With the holidays upon us, what better company to team with for this December's Snack of the Month than OCHO Candy! We love that they are dedicated to producing delicious organic alternatives to traditional candy bars. All of their chocolate bars are handmade in the SF Bay area and taste great!
Denis Ring, CEO of OCHO Candy, wanted to introduce the world to a truly delicious organic chocolate bar. With persistence and numerous formula tweaks, he crafted the exceptional recipe he was looking for. OCHO Candy redefines the way candy is made. The company uses only simple, organic ingredients, and contains no artificial flavors, preservatives or fillers. Their candy is made in small batches in their own candy factory so you can taste the difference with each bite. That is why it gives us great pleasure to partner with them this December.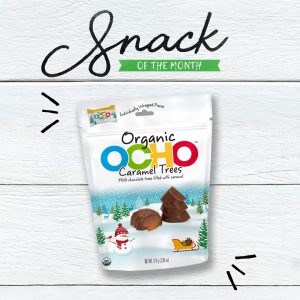 Their Christmas seasonal milk chocolate trees provide the perfect sweet treat to indulge in this holiday season. OCHO fills these bite-sized morsels with creamy peanut butter and gooey caramel that is sure to satisfy. They also have peppermint mini's for those who love the traditional seasonal flavors! We encourage you to give them a try! Believe us, you will taste the difference between OCHO's sweet treats and their competitors. We're confident that after just one bite, OCHO Candy will be on your wish-list!
No matter what holiday you celebrate, OCHO's organic candy is a great choice. You can now grab their tasty seasonal chocolates straight from Oh My Green. If you are an Oh My Green customer and want to try a pouch, contact your Oh My Green Happiness Ambassador today. If you're not an Oh My Green customer, then get on board and make the upgrade! Click here to get started!