At Oh My Green we believe that "delicious" and "natural" are qualities that belong together. That's why we are delighted to feature the company Little Secrets for our February Snack of the Month. We absolutely love their Dark Chocolate with Sea Salt Crispy Wafers. These yummy, all natural, crispy, fair-trade chocolate covered wafers strike the perfect balance of sweet and salty and deliver a crunch that is guaranteed to satisfy.
Currently, Little Secrets offer seven regular and two seasonal varieties of treats that have been voted "crazy delicious" by almost everyone on Rachael Ray Every Day's staff. Nina Elder, their executive food editor, described the Sea Salt Crispy Wafers as "the fair-trade-certified love child of a Kit Kat and a Nutter Butter." And now, you can add them to your office stash straight from Oh My Green.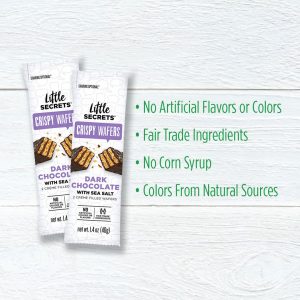 Before Chris Mears, CEO of Little Secrets Chocolate Brand, channeled his obsession for chocolate into creating these killer treats, he did his research. After polling hundreds of friends and family members, he learned that most people  keep a "secret candy stash" at work. Chris made it his goal to make our guilty pleasure of chocolate snacking less incriminating.
With gratitude, we wholeheartedly welcome Little Secrets to the Oh My Green family of healthy snacks. If you are already an Oh My Green customer and you'd like to try their Dark Chocolate and Sea Salt Crispy Wafers, talk to your Oh My Green Happiness Ambassador. If you're not an Oh My Green customer yet, click here and make the upgrade to healthy snacks now!