The more we learn about Bubba's Fine Foods the more we like their products. They have really made an effort to create unique snacks using only natural ingredients. For that reason, and many others, Bubba's Kettle Cooked Nana Chips are our pick for June's Snack of the Month.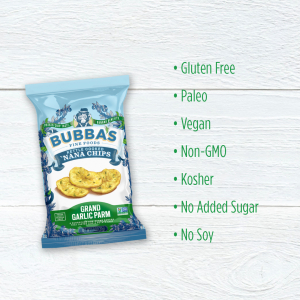 I mean, everything about the Nana Chips is right! They are grain-free, gluten-free, paleo-friendly, vegan, non-GMO, kosher, and they contain no added sugars, no soy, and no dairy. In addition to all this goodness, the Saba bananas used on the Nana Chips are naturally packed with prebiotics, vitamins, and minerals, and a low glycemic index due to their low sugar content. The Nana Chips are seasoned with real, healthy ingredients for complete deliciousness.
The Nana Chips are great on their own, but they are also perfect with dips, hummus, and guacamole.
The story of how Bubba's Fine Foods started is as unique as the snacks themselves. A family business of sorts, Bubba's Fine Food was formed by Jeff Schmidgall, a CrossFit trainer with Crohn's disease, and Jared Menzel, a chef with Type 2 diabetes. Jared would make his own grain-free snacks and share them during family reunions. Jeff simply fell in love with the snacks and suggested to Jared that he should start a business. Little did he know he would be a part of it.
The Nana Chips were recently featured on the Today Show as one of the leading "healthy + delicious" products available in the market. So, we're not alone in our love for the Nana Chips.
If you are an Oh My Green customer and you don't see Bubba's Nana Chips in your micro-kitchen, contact your Happiness Ambassador. If you're not an Oh My Green customer, make the upgrade and Get started today!