We are always on the lookout for unique snacks that deliver on taste and nutrition. This month, we found a real winner  — IPS Perfect Chips — protein-packed chips with a flavor punch. Our featured supplier for January is IPS Perfect Snacks. This Los Angeles based snack company uses non-GMO popcorn to make its healthy alternatives to traditional potato chips. That's right, chips made from popcorn.
You can get the IPS Perfect Chips in delicious sea salt and black pepper flavor straight from Oh My Green. Not baked, fried, or popped, these chips contain zero trans and saturated fats. They are also gluten free and contain 6 grams of whey protein per serving (the same protein content as a large egg). With half the fat of regular potato chips, these guilt-free morsels are the perfect way to satisfy your need to snack and keep hunger at bay.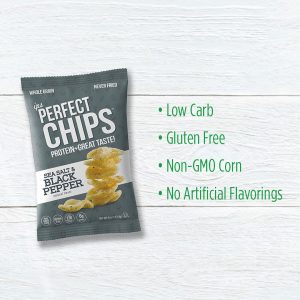 Adam Kamenstein, CEO of IPS Snacks, set out to create a great tasting protein chip that delivered on both nutrition and flavor. But that's no easy feat. For example, protein is very sensitive to heat which makes manufacturing tricky. In order to get the right texture and crispiness without damaging the nutritional content, heat temperature must be precise. After several formulation changes and countless hours in the snack laboratory, the IPS team created a crispy, flavorful chip full of nutritional goodness. With 120 calories per serving and and six grams of protein, IPS Perfect Chips is a great snack choice.
We welcome IPS Perfect Chips to the Oh My Green family of healthy snacks. If you're already an Oh My Green customer and you'd like to give sea salt and black pepper IPS Perfect Chips a try, contact your Oh My Green Happiness Ambassador. If you're not an Oh My Green customer yet, get with the program and click here to start!