Office coffee should NOT be cringe-worthy. No wonder so many employees spend so much money and time leaving the office to go grab a coffee. That's why, at Oh My Green, we believe bringing in the best coffee and tea brands for you to serve your employees is so important for a happy, healthy office. So many coffee providers out there claim that they offer customers only the best, in some cases this is true – we want to give you a behind-the-curtains peek into how we curate GOOD coffee and tea for your office.
Our Curation Standards – Working with Brands with Integrity & Know-How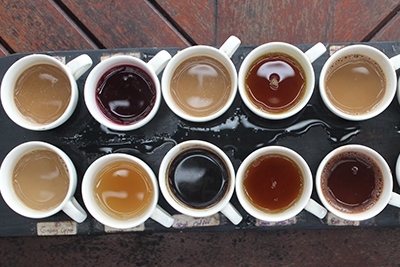 One of the key aspects of getting great coffee and tea is by working with experts. You might ask how we verify that the brands we work with have this expertise. We actually tour their facilities, for coffee – talk with their roasters, for tea – talk to the tea house buyers, and actually do cuppings with them. A cupping session allows you to observe the taste and aromas of brewed coffee or tea, it's similar to a wine tasting where you might scrutinize the body, flavor, and aftertaste of the beverage.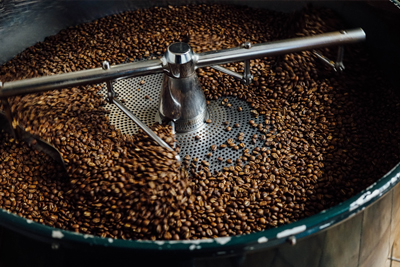 With coffee brands, we like to gauge how much knowledge they have of the roasting process and what types of equipment they use. There are extra steps and care that bring the best out of the beans. We certainly try to avoid brands that over-roast. Did you know that there are roasting phases called first crack and second crack? These are points in the roasting where the beans crack and split. Once a bean gets past the second crack, it is over-roasted and will taste burnt and kind of like charcoal.
With tea brands, a good tea house will know when to purchase their tea and will only purchase inventory for 1 year, and then will purchase again at the next cycle in order to get leaves with the best flavor. The tea brands we work with are also knowledgeable about protected origins. These are aspects of a growing region that cannot be replicated elsewhere if the leaves are grown outside of that region.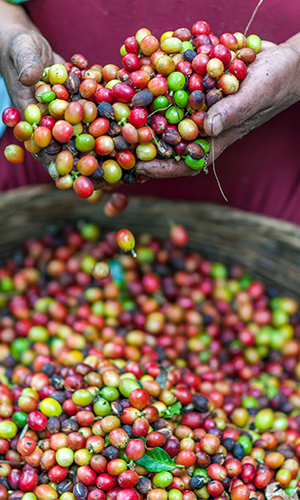 On top of know-how in their trade, whether it be coffee or tea, it is important for us to work with brands with integrity. We work with brands that purchase their coffee beans or tea leaves through direct trade or have a relationship with the farmer/gardener. Direct Trade means that they have established a relationship with the farmer and the source and practices of the farmer are known, this transparency helps to ensure a quality end product. This practice also guarantees for the farmer that the crop will be processed, and means fair pricing for the farmer to make a fair living wage. Many times roasters will even create social impact programs in the communities where they direct trade.
A Note on Freshness & Flavor Profiles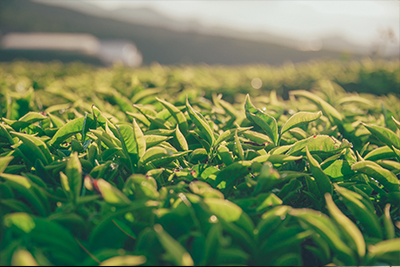 The fresher the better, especially with coffee, within a matter of weeks the freshness can degrade. For tea, we work with brands that only purchase inventory for a year – you would be surprised tasting a cup of tea from older leaves versus newer how much flavor variation you can get. While tea leaves don't necessarily go bad that fast, they can lose a ton of flavor. We make sure our inventory is the freshest possible before we send it out to our customers.
When it comes to coffee flavor profiles, we generally cater to the typical American palette. Most customers prefer medium to dark roasts. Though we do offer light roasts for those who like to taste more of the character of the coffee bean over the roast itself.
With tea, we generally find that a standard portfolio of black teas, green teas, and non-caffeinated herbal teas meet their at-work needs. On top of that, our tea selection has evolved over the years as we listen to our customer preferences and add new varieties.
Coffee Fundamentals & Tools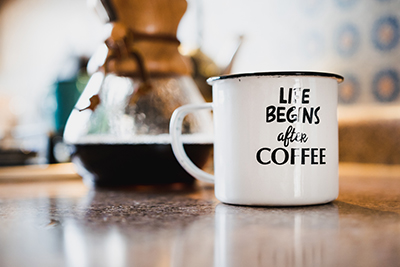 Whether your office has multiple ways to brew or only a single one we have some more information on how to channel your inner barista. From the beans you use, to how they are ground, to the water you use and how you brew it – there are a few ways to enhance your office coffee without having ever worked as a true barista. Check out this related post to learn more.
True Curation Experts = Truly Good Coffee
By working with a team like the Oh My Green curation team you can be assured that someone has already vetted the coffee and tea that you bring into the office. Your employees will be lining up in the office kitchen instead of the nearby Starbucks.
If you're not an Oh My Green customer yet, get started now and make the upgrade to truly good coffee now!