Have you ever run into the problem of buying too many bananas and not having enough time to eat them all before they're too ripe? Overripe bananas are too soft and mushy to enjoy, but way too sweet and delicious to waste! Luckily, there are quite a few ways you can use up your overripe bananas. You can mash them up to make some banana nut muffins or freeze them to make some quick and easy smoothies. Both can be a delicious snack or nutritious breakfast, but if you're in a pinch, smoothies are definitely the way to go!
How to Freeze Bananas for Smoothies
Freezing bananas might sound easy, but you'd be surprise how many people are freezing them incorrectly. Freezing bananas correctly will make the smoothie making process much easier and quicker!
Peel the bananas.

If you do not peel the bananas, you will need to chip off or slice off the banana peel. Trust me, it will not be an easy task!

Slice them into 1-2 inch chunks.

Slicing them into smaller chunks will make blending the frozen chunks much easier.

Place them on a baking sheet or large container lined with parchment or wax paper.

Using a parchment/wax paper will prevent the bananas from freezing and sticking onto the baking sheet.

Freeze for 1-2 hours.

Once the bananas are mostly frozen, it will keep the chunks from freezing together into a large clump. Leaving them in the freezer for too long may also result in freezer burn.

Remove the bananas from the baking sheet or container and store in a freezer bags.

Transferring the bananas into freezer bags will keep the air out and keep the freezer burn away!
Green Smoothie Bowl Recipe (Serves 2)
The base used for smoothie bowls should be thicker than regular smoothies, so using frozen bananas as the main ingredient is a must! All of the additional ingredients in the recipe are just to make the smoothie more nutritious, tastier and easier to blend. Toppings are also important to give smoothie bowls some texture.
Ingredients
2 Medium Bananas, Frozen
½ cup Mangos, Frozen
½ cup Pineapples, Frozen
2 cups Spinach, Raw
1 tablespoons Flaxseeds, Milled
1 cup Soy milk, Unsweetened
Directions
Add all ingredients into a high speed blender and blend until smooth (about 2 minutes).

Advice

: Use the tamper to push ingredients down to help the blending process. Add a few tablespoons of water if mixture is too thick or not blending well.

Pour the smoothie mixture evenly into 2 bowls.
Add toppings of your choice.
Topping Options:
1 tbsp Chia Seeds (

Highlights

: Omega 3s, protein and fiber)
1 tbsp Hemp Seeds (

Highlights

: Omega 3s, protein and fiber)
½ Fresh Mixed Berries (

Highlights

: Antioxidants and fiber)
1 oz Chopped Cashews (

Highlights

: Protein and minerals (copper, zinc, magnesium, etc.))
1 oz Granola (

Highlights

: Fiber and iron)
Smoothie bowls are fun, versatile and can be a great way to use overripe and/or frozen fruits. The ingredients can be changed based on your preferences or what you have on hand. You can replace the mangos, pineapples, spinach and soymilk with any fruits (must be frozen), greens and nut milk of your choice.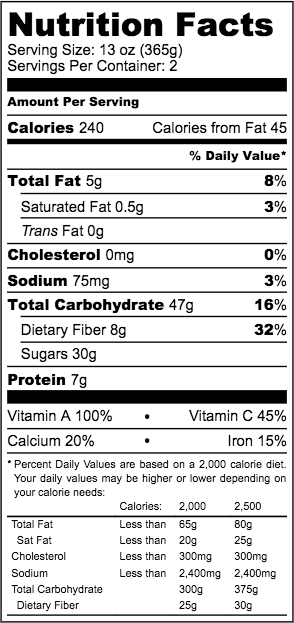 The nutrition information to the left is based on the ingredients for the smoothie case and excludes additional toppings.