Across America, employees are bombarded with food choices in their break rooms and office kitchens. Nuts or a candy bar for a pick-me-up? Bottled water or soda? There are numerous opportunities for healthy snacking in today's workplace. But do most choose wisely?
At Oh My Green, we help companies stock their kitchens with nutritious snacks but we offer less healthy options too. If someone wants a soda or sugary cereal in their offices, we can provide it. But given such choices, what do employees choose?
Recent data analyses across our platform revealed that 94.5% of the snacks purchased by our customers were healthy, or "approved" while 5.5% were unhealthy or "not approved". We also found that their choices remained stable over time. In fact, with companies using our snack program for a year, employees tended to eat a bit healthier over time. Looking at the data in the aggregate, we found that the vast majority of snacking in our customer base was healthy.
Before diving into this data, a quick note on the methodology. We looked at twelve months of snack purchase data from the first quarter of 2017 through the first quarter of 2018. We looked only at companies that were customers during that entire time period. Our snacks are categorized as "Oh My Green approved" which means they meet our nutritional guidelines, or "not approved" which means they don't. Lastly, our sample of customers is biased toward the San Francisco Bay Area and New York City which has a high proportion of tech companies.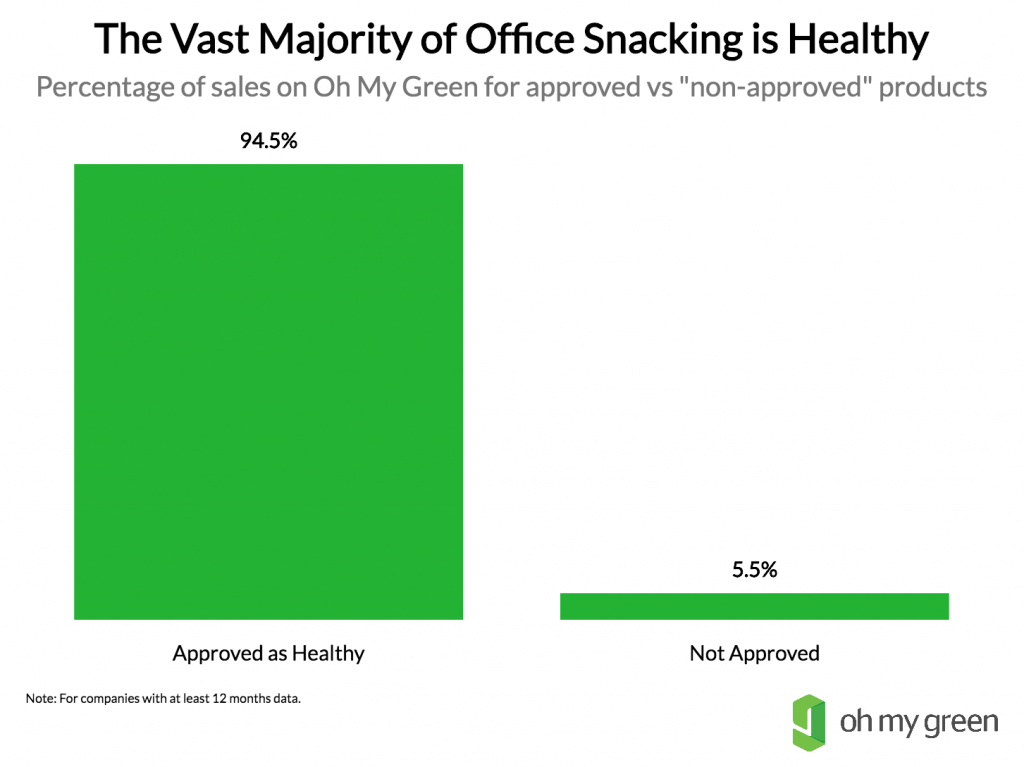 As shown above, only 5.5% percent of snack purchases on our platform deviated from our "approved as healthy" standard. This is perhaps not so surprising since companies that sign up for Oh My Green are more likely to be interested in healthy snacks. After all, that's what we specialize in and what our companies want.
When a company starts an Oh My Green employee snack program, the employees drive decision making. Each month the company can adjust snack purchasing and decide to add more or less healthy food products to their order. Our system also allows employees to make requests for certain types of snacks which can be added to the order. If employees purchase more unhealthy options (or request them), the rate of "non-approved" purchases will be shown in the data. However, based on our current customer database, we see no evidence that companies shift from healthy to less healthy over time. For example, in April of last year, 5.8% of all snacking was unhealthy while it was 5.5% this March — a five percent reduction over the course of the year.
The chart below shows the percentage of "approved as healthy" snacks purchased by our customers monthly over that year.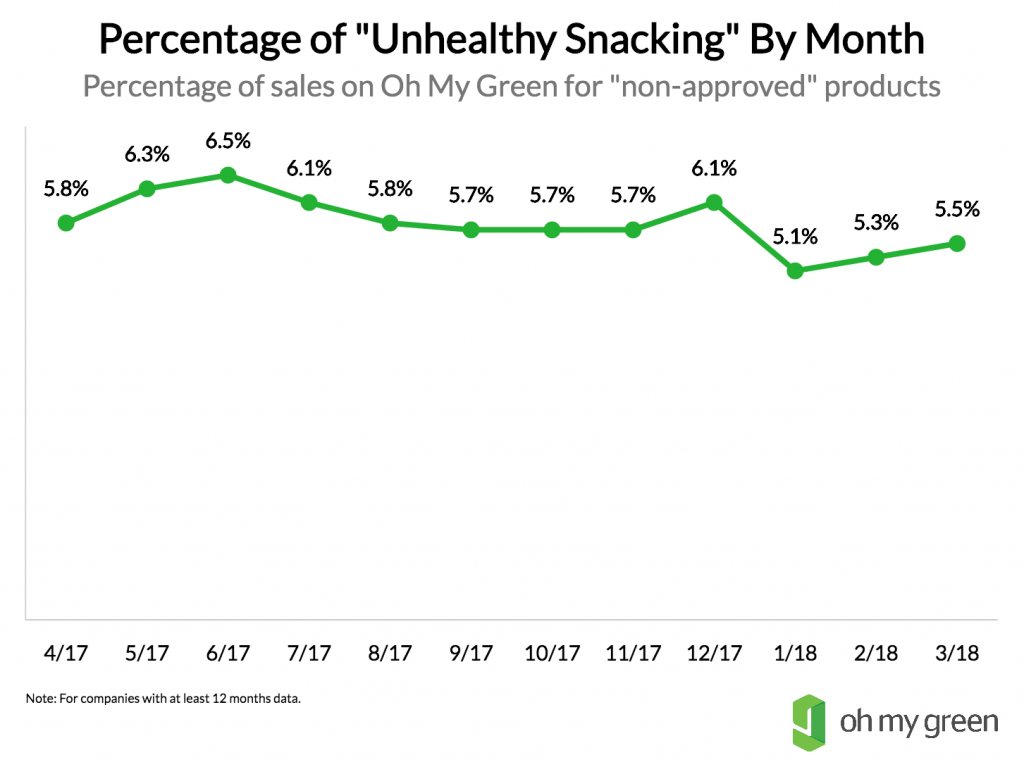 Some interesting seasonal patterns also emerged from this data. Companies appear to have ramped up their unhealthy snacking at the beginning of the summer (perhaps with the entrance of college interns) and in December (holiday season). Yet, just like the rest of us, employees ate healthier in the new year. In fact, between December and January, unhealthy snacking dropped 16%!
Overall, we found that most companies on our platform ate pretty healthy, some healthier than others. The chart below shows where these companies fall according to their purchases of non-approved snacks, with some never making unhealthy choices.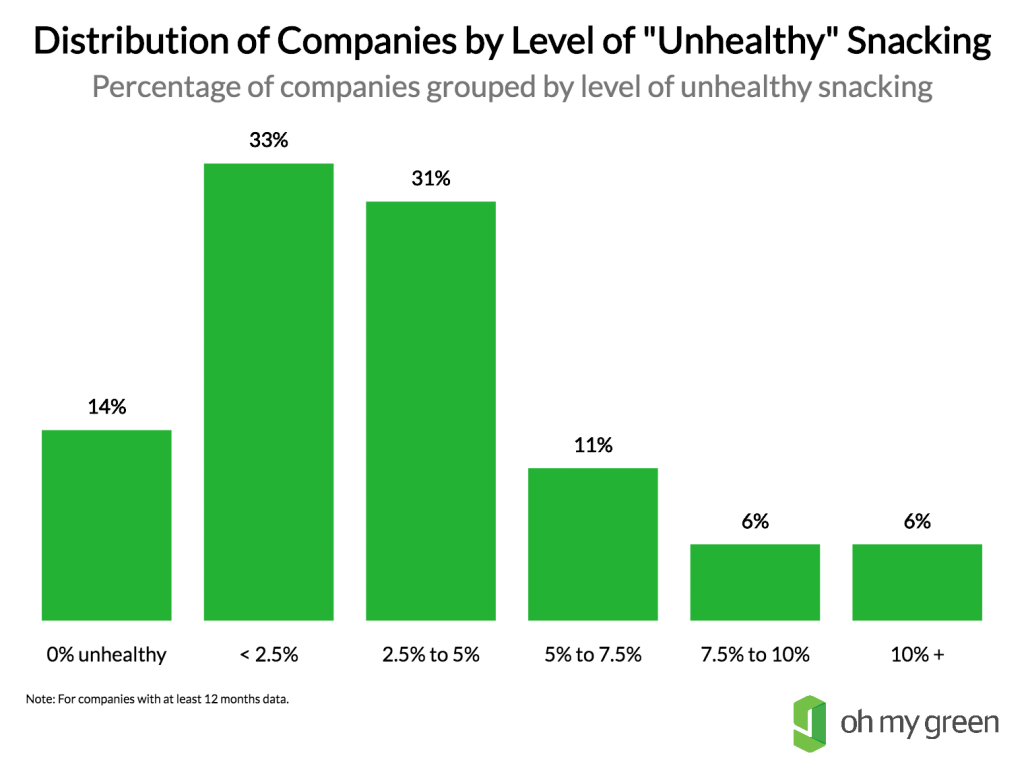 Among companies that have been our customers for the last twelve months, 78% have fewer than 5% of their snacking from the "unhealthy" list with 14% never purchasing unhealthy options. On the other side of the equation, 6% of companies have snack purchases with greater than ten percent unhealthy items.
At this point, you may be wondering, when employees do choose to "cheat" on unhealthy snacks at work, what exactly are they choosing? The chart below shows the percentage breakdown of unhealthy snack consumption by category.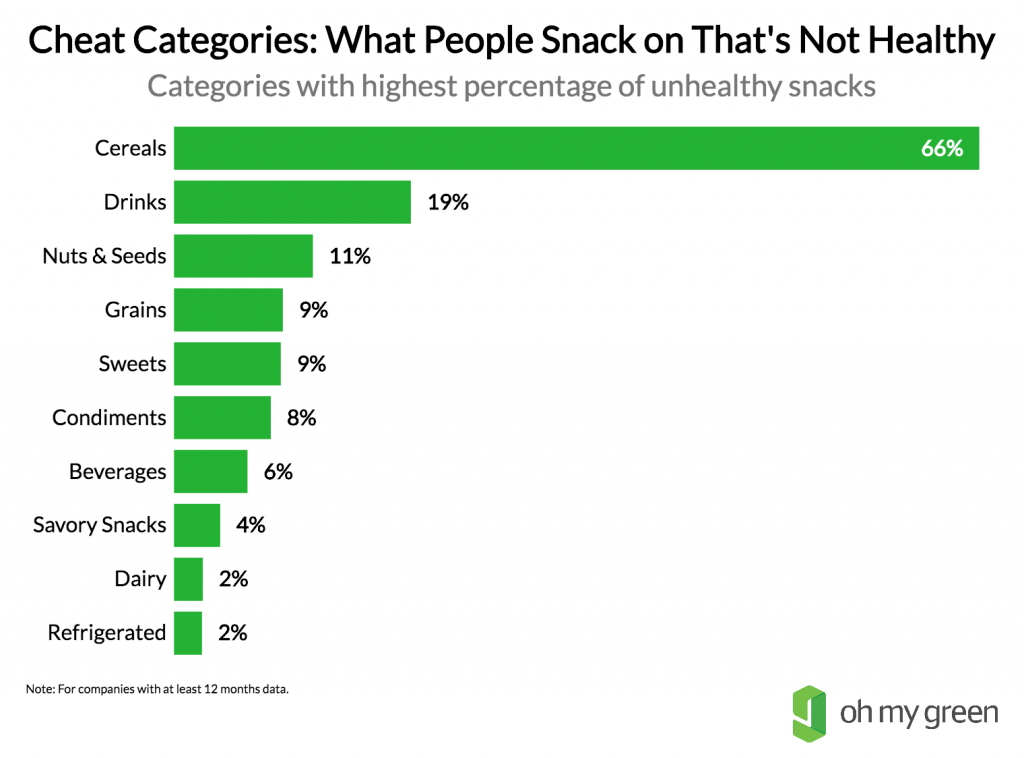 The data above revealed something else interesting. When people eat unhealthy at work, it's predominantly cereal. By a two-thirds majority! Among companies offering mostly nutritious snacks, many offered breakfast cereal options which included sugary or processed choices.
And in case you were wondering about the commercial popularity of non-approved snacks that employees choose when they cheat, the chart below shows the sales breakdown by brand: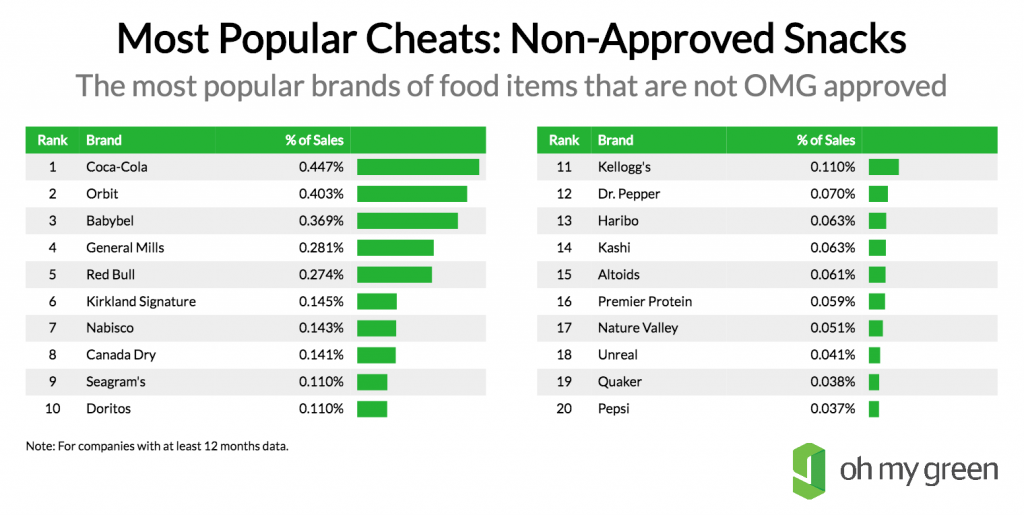 The good news here is that even when employees are given unlimited snack options at work, most go for the healthy options. Over time, that remains the same and snack programs do not disintegrate into an unhealthy smorgasbord a year later.
If you are interested in discovering how Oh My Green can help support your company's healthy snacking behavior, please visit garten.co/get-started to learn more.