It can be a daunting task to select a catering company that is the right fit for your company. With so many choices, how do you know what to look for? How can you be sure they align with your culture and values? Let us do the heavy lifting and provide you with a guide of questions to ask your current or potential catering partner.
1. Where do they source their food from?
Getting an answer to this basic question will reveal if their products are traceable to the farm level, if sustainability is important for them, if they operate ethically, and if their products are considered USDA organic and/or non-GMO. Here are some certifications we suggest to look out for:
At Oh My Green we are committed to following sustainable business practices that support local sourcing, conserve natural resources, and minimize waste. Whenever possible, we source the freshest (never frozen), local, seasonal, pesticide-free, non-GMO ingredients from producers who are also committed to sustainable and ethical methods.
Taking it a step further, we arrange for unconsumed food to be picked up and donated by services such as Food Runners. We also make concerted efforts to recycle dishware and utensils and/or provide compostable options.
2. Does the provider cater to varying dietary preferences or requirements?
For example, do their menus include varieties such as vegan, vegetarian, gluten-free, Halal, Kosher, or take into consideration the top eight most common allergens: eggs, dairy, soy, shellfish, fish, peanuts, tree nuts, and wheat.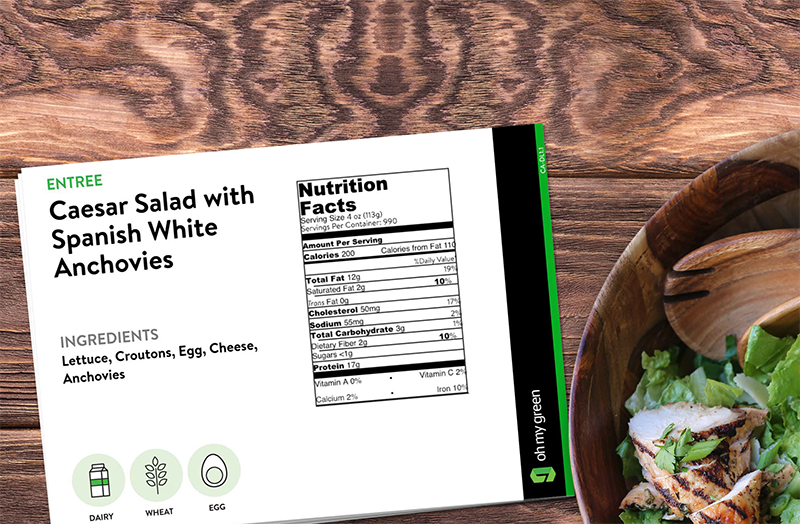 Oh My Green menus take into consideration all dietary needs and offer a variety at every meal. You can taste the variety in our menus which pull recipes and flavors from all over the globe creating culturally diverse and flavorful meals inviting all to join at the table. And clear communication of allergens is displayed with words and/or images so your employees never have to wonder. 
3. Are they wellness-centric?
This question should reveal if their meals are designed for health. It is important to consider the type of food being served at the office. You don't want lunch to cause a midday crash that can lead to loss of productivity for your business.
Oh My Green chefs curate menus designed to fuel your employees with nutrient-dense meals that are well-balanced. After lunch, your employees will feel energized and ready to tackle the rest of their day.
4. Do they align with your company's culture and values? 
This will reveal a lot about what's important to this vendor and whether you see eye-to-eye on certain issues or if their services can support the unique needs of your company.
Oh My Green's company's values are our "F.O.R.C.E"—Fun, Openness, Respect, Collaboration, Excellence. Also, we forge strong relationships with employees, clients, and partners. They are considered part of the Oh My Green family.
5. Does the vendor make it easy for you to work with them and manage the service?
You'll want to find out how they engage with their customers. For example, do they have a general customer assistance hotline and/or will you have access to a dedicated account manager? Do they take the time to understand your company's requirements?
At Oh My Green, we take the time to understand the customer expectations, to ensure a timely lunch service. We work with you and your team to create optimal flow and a smooth stress-free lunch service by observing each space individually and making recommendations that ensure a great dining experience.
In addition, we use a range of innovative technologies to ensure excellent service, presentation, and food safety. Our online service portal allows real-time ratings and suggestions from the people who matter most, your workforce. Employees can rate and comment on the various dishes within a meal so we learn together what worked and what didn't. Additionally, our portal allows the user to look at the ingredients and nutritional profile (powered by the USDA database). If that wasn't enough, you also receive top-notch support from a dedicated account manager and on-site staff. 
6. Is corporate catering their primary service offering? 
Many catering companies offer a corporate solution but primarily focus on large single events (i.e. weddings). Oh My Green's catering is specifically designed as a meal solution for the office. Our Executive chef has over 15 years of experience in corporate catering. This ensures a dialed-in focus on creating a premium, restaurant-caliber experience for you and your employees on a daily basis.
7. Do they prepare their food in-house?
What you want to find out is if they are just a drop-off service or if they prepare all the meals themselves. Do they offer a menu selection you can work with? This also should give you an indication of the onsite support you'll receive. For example, if they handle the setup and clean-up after every meal.
With Oh My Green, once our services are arranged, you can take yourself out of the equation. Our culinary team handles the complete lunchtime experience from set-up to break-down and everything in between. Our local chefs curate weekly menus and deliver a seasonal farm-to-fork experience prepared with the utmost care and attention. Every part of your Oh My Green meal service is designed by our merchandising team, as food presentation is a cornerstone of our brand experience, which creates a warm and inviting high-end experience. 
Now that you have the right questions in-hand, find out if Oh My Green Catering is right for your office. Contact us now.
Also, be sure to join our community on Facebook, Twitter, and Instagram. Find us as @OhMyGreenHQ.