Perks That Improve Morale and Attract Talent
You may have noticed that employees now place a different value on unique perks more than ever before. These combined with a strong and positive company culture can help strengthen employee engagement, as well as sway the decision of top talent. Did you know employee engagement isn't just about productivity and attendance? Think of employee engagement more like you might if you were thinking about customer engagement – it's about loyalty and referrals.
How Likely Are Your Employees To Refer You As An Employer?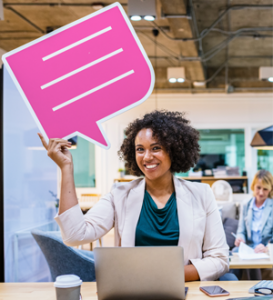 If you were able to answer positively to that – awesome, pat yourself on the back! If not, does it go beyond culture – are you falling behind current benefit expectations or workplace trends?
With a large number of startups and high-energy tech companies expecting a lot from their teams, it's time for leaders in these companies to also see their companies as communities with a shared purpose. Gone from these types of companies are the mindset of simply being a cog in the mechanism and working your job from 9-5. Each employee now shares in the ownership of success and should, in such respect, reap the benefits of that shared camaraderie and responsibility.
It's a Lifestyle
With the startup mentality growing even among non-startups, companies have to start looking at perks and benefits that will motivate employees and keep them feeling great about the community they are striving to build. Employees now rate perks that help them with their wellness goals or save them time with traditionally outside work activities, as well as align with their personal priorities, much higher than financial and health care benefits alone.
According to one study, free snacks alone can improve job satisfaction by more than 10%. Simply focusing on what might help make employees happy and reduce stress goes a long way towards reciprocating a dedication back to your staff. So what are some of those unique benefits?
Four Categories To Show You Care
Free Food:
Free snacks, drinks, and coffee
Keeping your team fueled with healthy foods makes them feel not only appreciated but more productive. They no longer have to leave the office to recharge, fork out funds from their own hard-earned money to get great tasting and good-for-them snacks or afternoon pick-me-ups – so it saves them time and money while making them happy.
Catered lunches
Who doesn't love free lunch? Turn lunch into community gatherings – offer food that satisfies their health goals and cravings.
Paid dinner when working late
When employees have to put in extra hours to get things done, make sure they stay on the top of their game by encouraging them to order in a reimbursable dinner.
Happy hour events
Turn happy hours into onsite events – offer a setting that teams feel comfortable, welcomed, and can enjoy some down-time with other community members.
Family-Focused Benefits Including Furry Family Members:
Generous paid parental leave
By aligning perks with your team's priorities they will feel that you truly understand and appreciate them. Beyond extended leave, some companies are offering adoption and fertility benefits as well.
Pet-friendly offices
Pet parents and colleagues alike can benefit from having furry friends at work. It's been proven that pets act as a stress-reducer. It also helps reduce the stress of finding a place for pets to go during the day if home-alone is not a good solution.
Child and/or doggy daycare
Reduce the stress of finding the appropriate and convenient care options by offering on-site care or helping to supplement the financial burden of such care. You will see your parental staff's shoulders lift as you help lift the weight.
Pet insurance
This is one of the hottest new benefits companies are offering and it makes sense. With 65% of Americans having at least one pet, many are now "shouldering sizable veterinary costs". When employees are distracted by the health of their pet or tough financial decisions they will be less effective at work. How can you help them and their pets be better prepared for the often-times unexpected costs?
Work-Life-Wellness Balance:
Subsidized or onsite fitness options
Healthy employees are more productive, generally happier, and often the health-bug is contagious. Employees who show a care for their health are respected by colleagues. Make it easy for employees to stay healthy by providing onsite fitness options from onsite gyms, group yoga sessions, or encouraging running clubs. If onsite options aren't feasible – help them stay healthy by contributing to their fitness budget financially.
Commuter benefits
When you subsidize a bus pass, bike rental, parking, ride-sharing, or even pay mileage – knowing that the hassle of getting to work (often from a lot farther away these days) – removes the nagging concern of the financial downside of commuting from employees brains.
Flexible work arrangements
Whether allowing teams to work on a schedule that works best for them or a location that is more desirable – this flexibility often helps staff be healthier and happier. They work when and where they are most productive and take the time to exercise or meditate when it works best for them personally. Concerned about the downsides of flexible work – take some pointers from companies like Zapier.
House cleaning reimbursement
It is the rare person who actually enjoys cleaning their house, especially after a long week of work, family and health commitments, and everything else. Why not give your team back some of their weekend hours – provide once a month house cleaning and pick up the bill. This is one unique benefit that is unlikely to go unused.
Community & Your Team:
Monthly/quarterly team outings
Who doesn't enjoy being treated to entertainment or a good time? What's even better is when that time is spent with a community of peers that have similar goals. Get things done, do a great job, and have fun. That team deserves to enjoy some downtime and that time away from work is often the catalyst to really getting to know each other better outside of purely work conversations. Teams who have fun together have been proven to be more productive at work together and often have a deeper loyalty to each other and the work they do.
Career development perks
By showing a dedication to the personal growth of your team – they will feel a renewed sense of loyalty back to the company. Not only this but you gain a growing hiring pool to advance staff within the company as they grow their skills.
Volunteer hours
Whether you coordinate volunteer activities that teams of employees can participate in or let them choose their own and submit a special volunteer time-off request. These types of activities lend themselves to not only the employees own happiness but also a respect and a higher level of engagement with the company overall.
Culture Aligned Perks
You know that each "shared purpose community" (AKA company) is unique. You have to evaluate how each of these benefits might fit in your culture and prioritize which should be implemented right away. Of course, not all of these will be financially feasible for every company, but not doing any shows an obvious lack of dedication or passive dismissal of current trends. Once you have prioritized the perks you might like to offer, we suggest taking a phased approach to implementation to make it more manageable.
Learn more about Oh My Green and be sure to join our community on Facebook, Twitter, and Instagram. Find us as @OhMyGreenHQ.